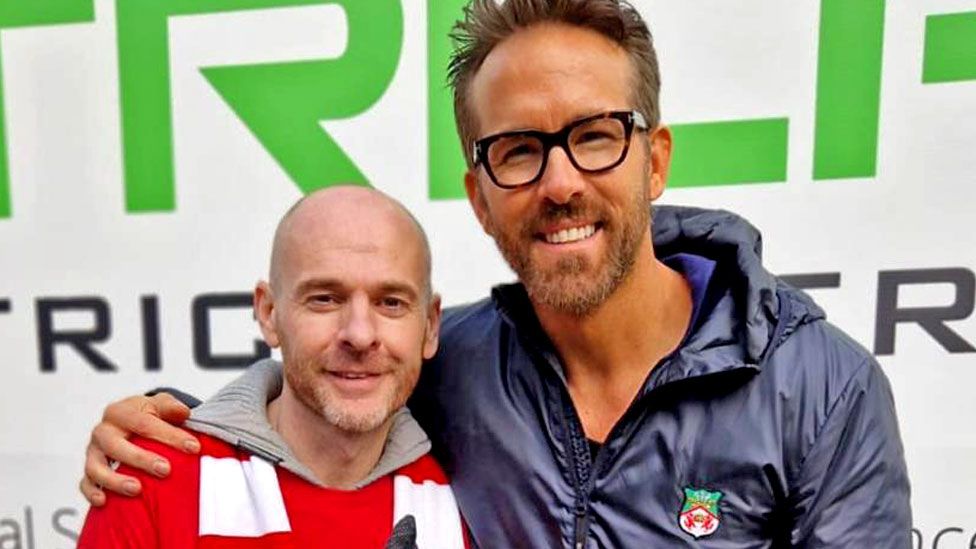 By Peter Gillibrand
BBC News
A terminally ill Wrexham fan who met Ryan Reynolds as his final wish has died of cancer at the age of 45.
Reynolds said he was "so grateful" getting to meet Jay Fear, from Southampton, before his death.
Mr Fear was re-diagnosed with terminal appendix cancer in January after getting the all-clear the year before.
After being invited by Reynolds to see Wrexham win promotion to the football league, Mr Fear said the experience was for his family.
"They are the ones that are going to remember what happened for the rest of their lives," he said at the time.
Speaking about his wife, Deb, his daughter, Jess and son, Sam, Mr Fear added: "I just hope this is a core memory that they'll never forget."
This Twitter post cannot be displayed in your browser. Please enable Javascript or try a different browser.View original content on Twitter
The BBC is not responsible for the content of external sites.
Paying tribute to Mr Fear, Reynolds said: "So grateful to have spent time with Jay Fear. He didn't have much of it left and the fact he shared that time so freely with others is something I'll never take for granted and never forget. This man lived.
"Sending all my love to Deb, Jess and Sam.
"Thank you for sharing your dad with me. I know how inadequate words must be given your enormous loss. Sending you all your love from my family, Wrexham and beyond.
"I loved every second I spent with Jay."
The meeting between Mr Fear and Ryan Reynolds was arranged by the charity Bucket List Wishes.
While at the Racecourse Ground, the Deadpool Star also gave Mr Fear a glove from the movie and arranged for him to visit the set for the third series of the film.