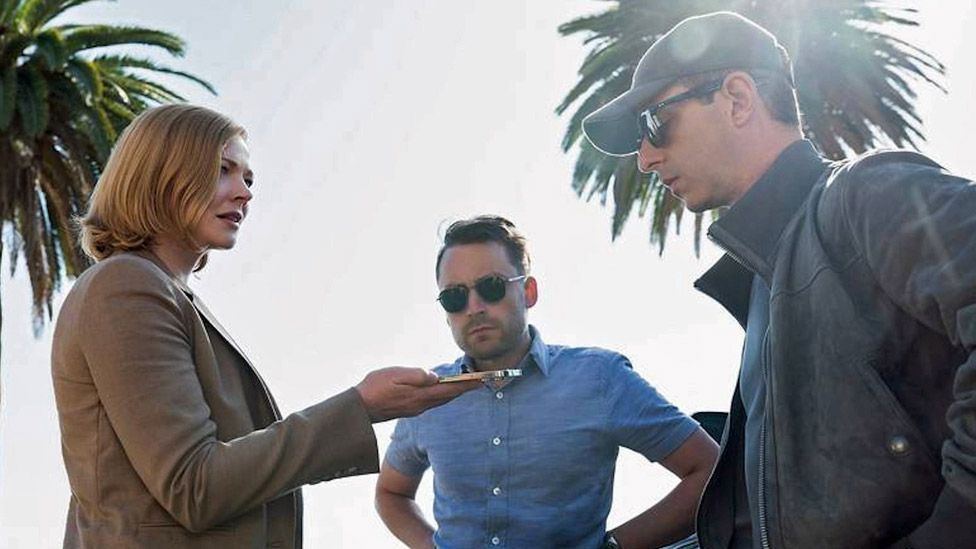 By Ian Youngs
Entertainment & arts reporter
Succession creator Jesse Armstrong says he has sympathy for the "caged beasts" at the centre of his TV show, as its hotly-anticipated finale approaches.
The brutal power struggle between the children of media mogul Logan Roy will reach its conclusion on Sunday.
"I don't enjoy seeing them suffer," he said. "So I don't know why I do it."
The writer told the BBC Comedy Festival in Cardiff he is "excited" for viewers to see the last episode, but "increasingly sad" as it nears the end.
The fourth and final season has seen the sibling relationships sink to torturous new lows, while also laying bare the corrosive influence of the dysfunctional family on US society.
Armstrong said some viewers have suggested he is deliberately cruel to his on-screen creations.
"It is true that sometimes in the [writers'] room we would say, 'What's the worst thing that can happen [to them]?' And by that, I mean the funniest," he said.
"We put the characters through a lot, and I do like being unflinching in terms of looking at that. But I don't feel sadistic towards the characters. I feel empathetic and rather humane.
"Hopefully you see this whole context for them, which is that most of them are pretty, by most common standards, bad people who do terrible things to the world. And yet we see a degree of what makes them act that way.
"So I guess I feel like I have more sympathy for them. I see them more as caged beasts in these cages of societal pressures, familial pressures [and] psychology that trap them. And I don't enjoy seeing them suffer."
The Roy dynasty has been compared to Rupert Murdoch and his children. Armstrong said he had never bumped in to any of the Murdochs, but had "occasionally had lunch with powerful media men".
"They are men, usually. And you're in there and they're telling you this stuff. Not even that [Murdoch] level, but powerful people. And you're vibrating as you're hearing stuff straight from the horse's mouth. You're like, 'This is it! I understand this world.'
"And you keep some notes and you go out and [read them and] it's like, '[late Viacom and CBS boss] Sumner Redstone loved a deal'. I knew that on the way in."
Books and articles are better sources of research, Armstrong said.
The magazine reported that Rupert Murdoch is "consumed with the question of his succession", and even that son Lachlan suspected brother James of feeding family stories to Succession's scriptwriters.
Armstrong said people had asked him, "did the Murdochs whisperer in your ear?"
He said: "No, we read Vanity Fair - they're slagging each other off in the pages... You don't need to go for lunch with those people."
Warning: Spoilers about episode three of season four of Succession
The British writer didn't respond to comments by actor Brian Cox, who said his character Logan Roy was killed of "too early" in the latest series.
In an interview with the BBC's Amol Rajan, the star praised Armstrong for executing the plot line "brilliantly", however.
"It was bold of Jesse," Cox said. "And that's where Jesse's great. There's no question he's a writing genius."
Armstrong told the BBC Comedy Festival he was "excited for the world to see the last episode".
"But then it starts getting increasingly sad as you stop seeing those people naturally that you enjoy working with, especially the writers for me."
Armstrong began his career writing for children's TV shows like The Queen's Nose and My Parents Are Aliens, before working on such comedies as Peep Show and The Thick Of It.
Peep Show return?
Peep Show ended in 2015, but Armstrong gave some hope for a possible return, revealing he still gets ideas for dialogue for Mark and Jeremy, who were played by David Mitchell and Robert Webb.
"I've got a file where I write them down," the writer said.
Asked whether the show could revisit the pair later in life, Armstrong, who created the show with Sam Bain, replied: "Well, I don't know. We did say when we finished it, maybe you could see them when they're older.
"It was a great time working with Sam, David and Robert. So yeah, maybe."
At this week's festival, the BBC announced that Mitchell has a new sitcom, titled Ludwig, in the works.
He will play a man who has "never really ventured further than his own front door" but steps into the shoes of his identical twin brother, a police inspector, after he disappears.
Meanwhile, Ricky Gervais has directed a short comedy film called 7 Minutes, about two people who turn up to kill themselves at the same spot at the same time. It is Gervais's first work for the BBC since 2013.
Comedies confirmed to be returning include Bad Education, Avoidance, Peacock, Mandy and Ellie & Natasia.
The Succession finale will be available in the UK on Sky Atlantic and Now from 02:00 BST on Monday. Amol Rajan Interviews Brian Cox is on BBC iPlayer.