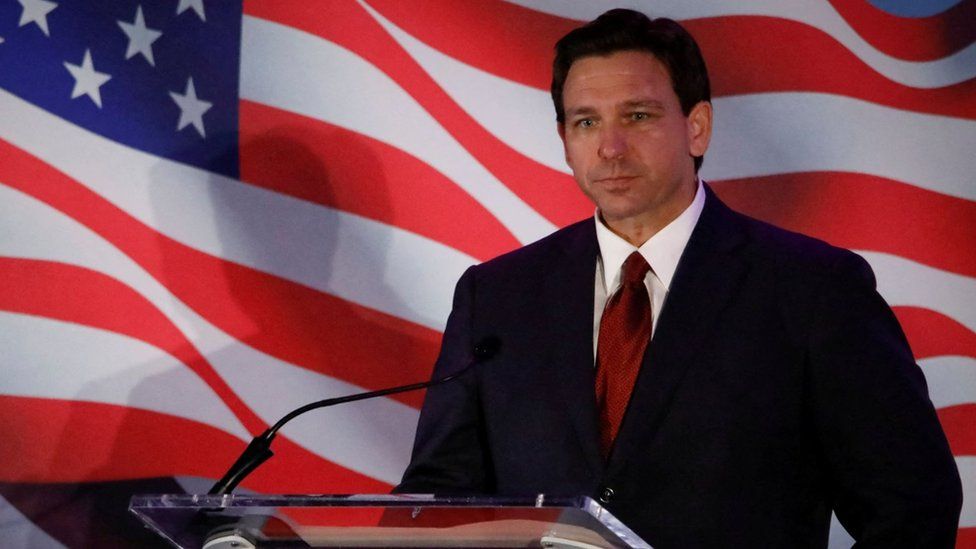 By Peter Hoskins and Annabelle Liang
Business reporters
An engineering chief at Twitter says he is leaving the company the day after the launch of Ron DeSantis' US presidential campaign on the platform was hit with technical glitches.
Foad Dabiri tweeted: "After almost four incredible years at Twitter, I decided to leave the nest yesterday."
Mr DeSantis' entry into the race for the White House was hit by problems as a Twitter livestream malfunctioned.
More than 80% of the firm's workforce has been cut since Mr Musk bought it.
Mr Dabiri, who was the engineering lead for Twitter's Growth organisation, said in a tweet he had "experienced two distinct eras" at the company, before and after it was acquired by the multi-billionaire last year.
In another post, Mr Dabiri said the transition into Twitter's "2.0" was "massive and rapid".
He added: "To say it was challenging at the outset would be an understatement."
Mr Dabiri did not specify why he decided to leave Twitter, and whether it was related to the problems with the DeSantis event on the platform.
He did not immediately respond to a BBC request for comment. Twitter did not provide a statement on Mr Dabiri's exit when approached by the BBC.
However, Mr Dabiri said "Working with @elonmusk has been highly educational, and it was enlightening to see how his principles and vision are shaping the future of this company."
By the time Wednesday evening's Twitter talk had begun in earnest, hundreds of thousands of Twitter users had left the platform.
Mr Musk, who also runs car maker Tesla and rocket firm SpaceX, bought Twitter for $44bn (£35.4bn) in October.
Speaking to the BBC last month, he said that cutting the workforce from just under 8,000 people at the time he bought the firm to about 1,500 had not been easy.
Since Mr Musk took the reins at Twitter, he has laid off thousands of employees, including engineers responsible for the site's operations and technical troubleshooting.
The Florida governor's team worked quickly to spin the technical stumbles, writing on Twitter that the announcement had broken "the internet with so much excitement", and posting a link to the campaign website.
His press secretary Bryan Griffin claimed the online event had raised $1m in an hour.
At one point, the Twitter event drew more than 600,000 listeners, according to Reuters news agency figures, but by its conclusion, there were fewer than 300,000.
Once the livestream began, Mr DeSantis turned the conversation to his conservative credentials and touted his handling of the Covid-19 crisis in his state - an anti-lockdown approach applauded by many Republicans.