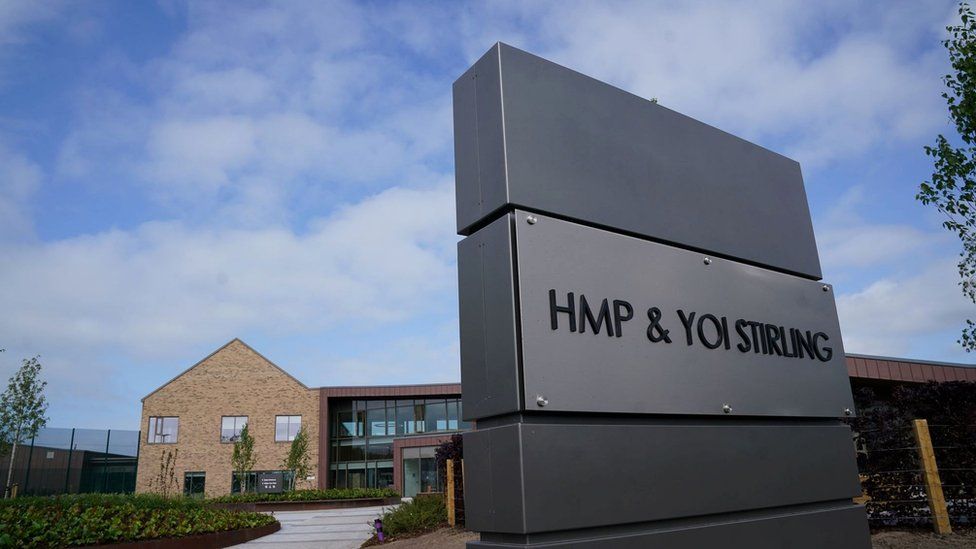 A new £85m women's prison, built as a campus with no overt security on show, will open in Stirling this summer.
HMP Stirling will house about 100 inmates, which is 300 less than the HMP Cornton Vale facility it is replacing.
The Scottish Prison Service (SPS) said this will allow staff to have the "time and the focus" to do more rehabilitation work with prisoners.
The new jail, which is more than two years late, has been built without bars on its windows and cells.
It has been designed to take into account of the fact that most inmates will have experience of trauma and is "significantly different" from a traditional prison.
Allister Purdie, SPS director of operations, told BBC Scotland: "Previously we had establishments like Cornton Vale which had 430 people in it.
"This establishment will have 100 people in it and our staff will then be able to have the time and the focus to work with people on that individual basis.
"There's a feeling of a campus here, it's not austere and not a typical prison that you face with lots of overt security measures.
"There's lots of glass within this prison, there are no bars from what you would see in a typical prison."
Mr Purdie added that having a "smaller, more focused establishment" will allow staff to "get underneath real complex issues that women had, who were coming into custody and to be able to break that cycle of offending".
HMP Stirling, which will also be a young offenders institute, includes areas to support women needing more intensive mental health support and a mother and baby centre.
The prison cost £85.7m to build - up from its initial £74m budget.
The facility was also originally planned to be operational by the end of 2020 but will now not be at full capacity until towards the end of this year.
'Safe and secure'
Cabinet Secretary for Justice Angela Constance said: "The new Stirling prison will provide world-leading facilities that are designed to meet the specific needs of women, focusing on rehabilitation and reducing reoffending.
"Providing a safe and secure environment in smaller accommodation units that research shows produces the best possible outcomes, Stirling Prison will also deliver intensive mental health care, a mother and baby unit and specialist support to help with reintegration back into the community on release. "
A report compiled in 2012 by former Lord Advocate Elish Angiolini recommended the demolition of Cornton Vale, the previous national women-only jail, and paved the way for the HMP Stirling replacement and smaller Community Custody Units (CCUs).
The CCUs, the first of their kind anywhere in the UK, are designed to recognise the needs of women in custody and the fact that their backgrounds often involve adversity and trauma.
CCU's opened in Dundee and Glasgow last year.