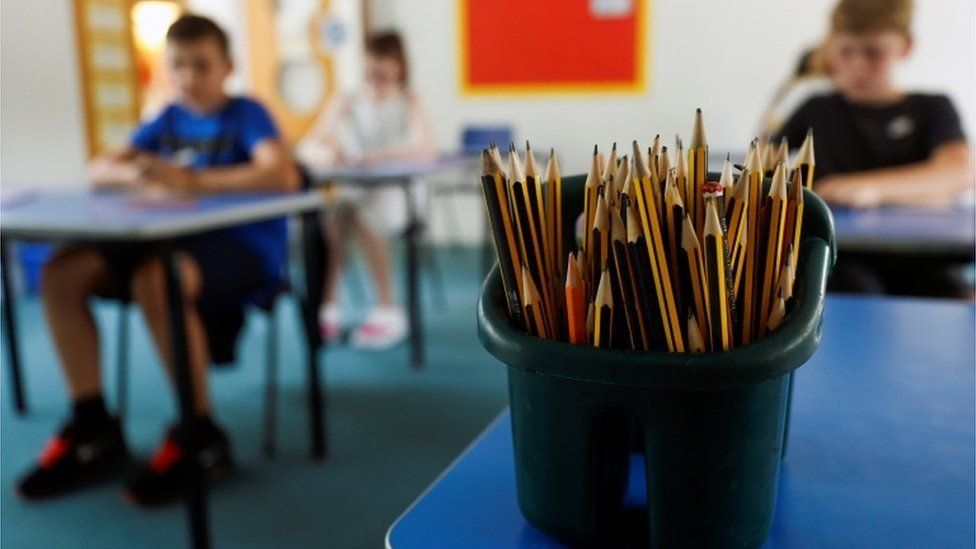 By Robbie Meredith
BBC News NI Education Correspondent
The Education Authority (EA) has been asked to model cuts of up to 10% of its 2023/24 budget.
BBC News NI understands the Department of Education has asked the authority to assess the potential impact of cuts of 3%, 5% and 10%.
The Education Authority is responsible for spending the bulk of the £2.5bn education budget.
Cuts of up to 10% could mean it has to find hundreds of millions pounds worth of savings.
The Education Authority is responsible for funding schools, staff, transport, meals, maintenance and support for children with special educational needs as well as youth services.
However, BBC News NI understands that any current modelling the authority is undertaking is for information only and no decisions have been made.
In a statement, the authority said it was "very concerned about the growing, unprecedented pressures facing education".
Sir David Sterling, a former head of the Northern Ireland Civil Service, also told BBC Northern Ireland's The View programme that Stormont departments could be facing up to £1bn in financial pressures and cuts in the next financial year.
The Democratic Unionist Party's (DUP) Mervyn Storey, who sits on the board of the Education Authority, warned that the shortfall by April "could be upwards on £500million".
Speaking on The View, the former finance minister said 80% of the education budget was spent on staff.
He said: "There is clearly burnout in our teachers, who feel the pressure to try to manage an impossible situation in regards to their budget."
'Grave and unacceptable'
But the authority has also been asked to look at its budget for 2023/24.
In a statement to BBC News NI, the chief executive of the Education Authority, Sara Long, said: "The financial position is anticipated to be significantly more challenging in 2023-24.
"This will have a potentially detrimental and profound impact, for example, on the day-to-day running of schools, special educational needs support, transport and catering, and ultimately on the educational experience and outcomes of our children and young people.
"Considerations are ongoing in conjunction with the Department of Education and the EA Board in relation to potential areas where spend could be reduced to address the predicted substantial funding gap in 2023/24."
Ms Long added that any proposals to reduce expenditure on a significant scale would have "very grave and unacceptable consequences for the educational outcomes of our children and young people".
Education Authority board chairman, Barry Mulholland, also said there had been "chronic under investment in education over the last 10 years".
The Department of Education said it has been considering various planning scenarios in "anticipation of what is likely to be a very challenging budget settlement for 2023-24" including some that would require reductions in expenditure in some areas.
"This is a normal part of departmental financial planning at this point in the year," the department said.