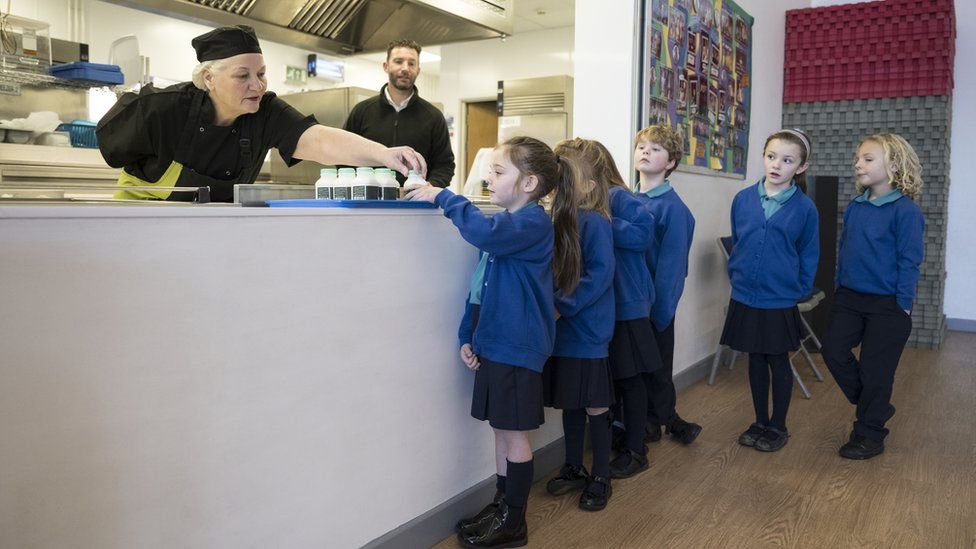 Every primary school child in England will have access to a free breakfast under plans unveiled by Labour.
Labour's education spokesperson Bridget Phillipson said breakfast clubs across England would be funded by returning the top rate of income tax to 45%.
Ms Phillipson said breakfast clubs would be the "first step on the road to a modern childcare system".
Currently, schools in disadvantaged areas can apply for a 75% subsidy to run a breakfast club.
Until July, schools in areas with a large number of children from deprived backgrounds were eligible for a 100% subsidy to provide free breakfasts to students.
About 82% of schools have some level of breakfast provision for children, according to Magic Breakfast - a charity who provide breakfast clubs at over 1,000 primary and secondary schools.
During her campaign to become prime minister, Liz Truss promised to give parents access to childcare during the school day.
She also promised to widen the range of childcare providers eligible for government funding.
In her speech at Labour conference on Wednesday, Ms Phillipson is expected to say that breakfast clubs, which provide free meals at school, will "drive up standards in maths, reading, and writing, and giving mams and dads choices".
She said: "The evidence couldn't be clearer: gaps in learning development, gaps in opportunities, open up early, so our solutions must start early too."
Breakfast clubs are a win-win for parents.
They offer crucial childcare in the morning, and - with costs rising - peace of mind that their kids can have a healthy meal at the start of the day.
Some clubs are funded by charities, government schemes and businesses. Others are paid for out of school budgets, which are under increasing pressure this year.
But they're not all free for all primary school children, which is what Labour is pledging to change.
That's the plan in Wales too, where free lunches are due to be rolled out for all children in state schools between Reception and Year 6 by 2024.
By promising free breakfasts, rather than lunches, Labour is hoping to address childcare concerns.
Parents' childcare juggling act begins long before their children enter Reception, though.
The industry will be eagerly waiting to hear what crops up next on Labour's "road to a modern childcare system".
Geoff Barton, general secretary of the Association of School and College Leaders, said: "Establishing this fully funded entitlement would simplify the situation and ensure this provision is deliverable in all primary schools.
"Not only is this important in terms of wellbeing, but it is also educationally important as pupils are not in a fit state to learn if they are hungry."
Lindsey MacDonald, CEO of Magic Breakfast, said: "Children who are too hungry to learn are unable to participate and immerse themselves in learning and maximise the opportunities from their education.
"With the cost-of-living catastrophe drawing so many more children and families into a situation where meeting the daily cost of essentials, like food, heating and housing is an impossibility, a school breakfast is a cost-effective solution to invest in our children's education and wellbeing."