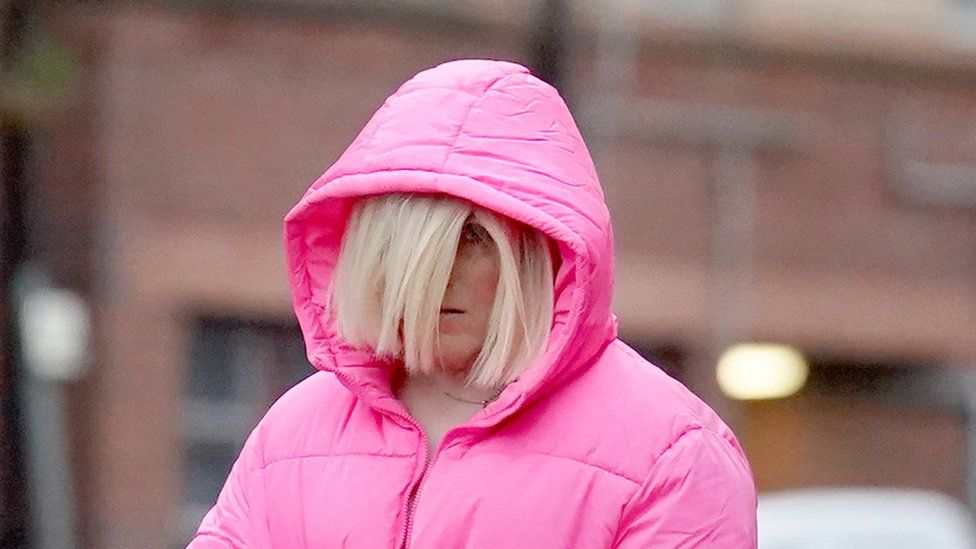 A former classmate of transgender rapist Isla Bryson has said she feels "violated" after learning of the crimes.
Louise Turner, 24, was paired with Bryson on a beauty course in Ayrshire.
It meant Bryson - who at that point had been charged but not convicted of rape - practiced applying fake tan and spray tan to Louise.
"I feel kind of violated," she told BBC Scotland. "It actually makes me feel so sick".
Ms Turner and another former student, Rachel Ferguson, said they should have been told that Bryson was awaiting trial for two rape charges.
Ayrshire College said it had no knowledge of the charges Bryson was facing when she was enrolled at its Kilwinning campus in 2021.
On Wednesday Bryson was found guilty of raping two women in 2016 and 2019 before she changed gender.
Bryson carried out the attacks in Clydebank and Glasgow while she known as Adam Graham.
When she later enrolled at the Ayrshire College for three months she was known as Annie.
Her classmates were almost exclusively female and much younger than Bryson, who is now 31.
Louise Turner, 24, said she had been Bryson's friend and partner for the practical elements of the class, which included applying manual and spray fake tans as well as facials and make-up to her face.
"She wasn't comfortable with taking things off, so she did a lot of practising on me," she said.
"But now that everything's come out I feel kind of violated. It actually makes me feel so sick."
Ms Turner said she only found out about the charges against Bryson last week.
She said Bryson made her feel uncomfortable on a number of occasions, including at Bryson's house.
"We were doing college work together and she was just getting too close for comfort for me," she said.
"I just felt like something was dead off and weird with her because she was desperate for me to be constantly talking to her."
As Bryson was uncomfortable being practised on, Ms Turner demonstrated beauty procedures on other students.
"She would get jealous that I was working with other people and she would make sly comments," she said.
"I just got sick of it and it was as if she turned against me because I worked with someone else other than her.
"She was bullying me, she was being horrible to me constantly, so I took it to someone higher up."
Ms Turner said several students raised concerns about Bryson's behaviour and she was eventually asked to leave.
"If we said anything she didn't like, she tried to say we were being transphobic," she said.
"We felt like we couldn't say anything because she would say we were being transphobic when we weren't at all."
Rachel Ferguson, 21, who was also on the course with Bryson, believes she should not have been allowed on the course.
"Now we know that [Bryson] was charged in 2019 and let on to the college course in 2021
"I just feel sick even talking about it. It's horrible."
She said Bryson was aggressive to students and staff while on the course.
"Two of the lecturers actually cried due to some of the words and name-calling," she said.
"I feel really let down. We should've been told. If the college didn't know, they should've done background checks."
She said she avoided college for three weeks after Bryson accused her of being homophobic.
Thomas Ross KC, a lawyer specialising in criminal law, said difficulties arise when a person is charged with committing a crime but not convicted.
Under current laws, the accused is not obliged to disclose the information.
He told BBC Scotland: "It's an incredibly difficult situation for the universities and colleges because if they admit the person who has been charged, then they will be criticised on the basis they are putting other students at risk.
"If they don't admit the person then it's likely to end up in some form of legal challenge on the basis that the applicant is presumed to be innocent, so it's really a catch 22 situation for the universities when this situation arises."
He said universities and colleges could change their rules to ask applicants whether they have been charged with a specific crime.
"It's not unique and it undoubtedly will be repeated as long as we're in a situation where we might be two or three years between charge and trial," he added.
An Ayrshire College spokesperson said: "We can confirm the individual was enrolled as a student at Ayrshire College for a three-month period in 2021 and is no longer a student with the College.
"Ayrshire College had no prior knowledge of this individual being charged with any offences.
"We will not be making any further comment on this matter."
A Scottish government spokesperson said ministers were seeking urgent clarification from Ayrshire College on the issues raised.
They added: "While enrolment and safeguarding policies are a matter for individual colleges, the Scottish government is working with the sector to review how institutions collect and share information regarding students and prospective students who have been involved in reports of gender-based violence."
The chairperson of the College Principals Group, Audrey Cumberford, said there were professionals at all Scottish colleges who were trained in safeguarding legislation and regulation.
She said: "Colleges can ask prospective students to declare if they have been convicted or have been charged with an offence.
"This happens through the application process, and then again through the behaviour code or student contract at each college - if students don't declare what they need to they can be asked to leave their course of study immediately."
Bryson was initially remanded to Cornton Vale women's prison near Stirling after her conviction on Wednesday but has since been transferred to a male prison.