By Philip Sim
BBC Scotland political correspondent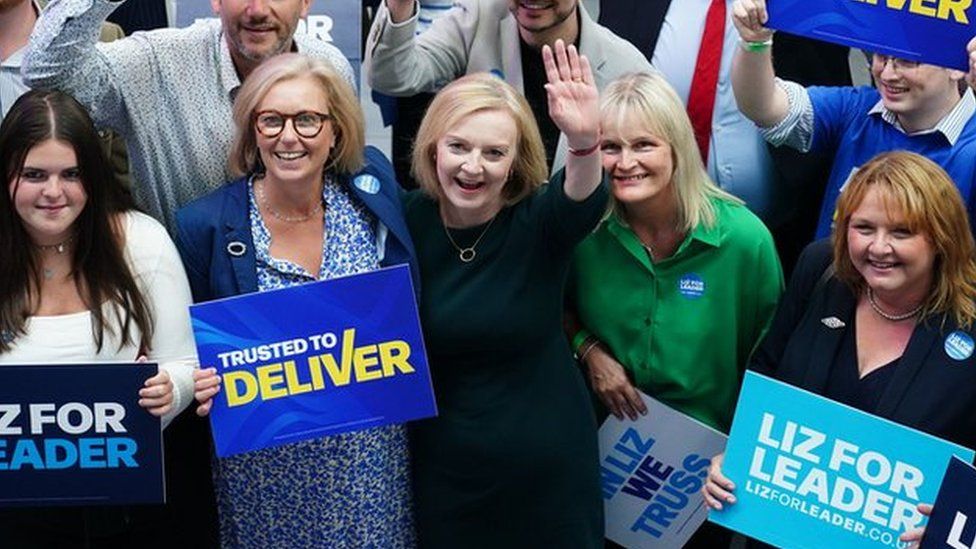 The Conservative leadership bandwagon has rolled through Scotland amid a hail of policy pledges, placards and protests. What were the key takeaways from the hustings in Perth?
1. The Truss campaign has built momentum
When the MPs ballot first whittled the field down to the final two, it was initially difficult to find Scottish Tories who supported Liz Truss.
Many had backed other candidates, with Tom Tugendhat and Kemi Badenoch popular. Some were also supporting Penny Mordaunt.
There were a few Rishi Sunak supporters right from the start, and he still has a healthy group of MSPs behind him.
But the turnaround for Liz Truss has been huge. She now has more MSP backers than her opponent. And when she gathered a group of cheering supporters before the hustings - prominent parliamentarians among them - she looked every inch the front-runner.
Meanwhile Mr Sunak didn't bother with a photocall, even although there were plenty of Ready For Rishi placards and t-shirts going around.
That energy carried over into the concert hall itself. While there was warm applause for the former chancellor, it was Ms Truss who inspired cheering and whooping.
Of course, this contest is not going to be decided based on decibels. It may be that Ms Truss's supporters were better organised, and indeed that Conservative types are not much given to whooping in the first place.
But it was hard to escape the impression that the foreign secretary won the room.
2. The winner will not 'ignore' Nicola Sturgeon
Prior to the hustings, the biggest Scottish headline of the campaign had been Ms Truss saying she would "ignore" Nicola Sturgeon, describing the first minister as an "attention seeker".
This sparked condemnation from the Scottish government, and indeed concerns from some Scottish Tories that such rhetoric might make their job harder. But for the most part, the grassroots members loved it - tough talk of "standing up to the SNP" is red meat to the Tory base.
Still, Ms Truss sought to clarify her comments at the Perth hustings.
She will ignore Ms Sturgeon when it comes to independence - but will seek to work constructively on other issues.
Ms Truss even said she would use her "powers of persuasion" to win Scottish ministers over to nuclear power and fracking - something which seems frankly unlikely, but is far less confrontational than her previous language.
This may have been simple realism; the winner is not going to be able to ignore the democratically elected leader of the Scottish Parliament.
And Ms Truss may feel as if the original comment has done the trick anyway; in the eyes of Tory members, she looks tough on the SNP.
Mr Sunak was keen to look equally combative, saying that rather than ignore the first minister he wants to "take her on and beat her".
3. The constitution is still key
A frequent refrain from Scottish Conservative members is that they want to "move on" from the issue of the constitution. They insist that the question of independence was settled in 2014, and that's that for a generation - regardless of the events which have transpired since.
It can't have escaped anyone's attention, though, that the party has campaigned almost entirely on the constitutional question since 2014.
Yes, that's partly because they have been up against a pro-independence party in every election, and it suited the SNP and Tories to turn politics into a binary issue which shuts Labour out.
But it was inescapable that the biggest cheers of the evening were reserved for pronouncements about the union.
Given Mr Sunak and Ms Truss both agree they don't want a referendum, the contest came down to who could make the more compelling pitch on the topic.
Mr Sunak went in hard, describing a referendum as a "barmy" idea which he couldn't see himself supporting in any circumstances.
But Ms Truss got the bigger cheer for her defence of the union as a "family" which she will "never, ever" allow to be split up.
There was a little nuance; Mr Sunak's position remains more of a "not now" - he even mentioned the UK being a voluntary union of consent - while Ms Truss is edging towards "not at all".
But it was clear that both want to draw a big red line under the question of a referendum.
4. Divisions run deep
Not all of the action at the hustings took place inside Perth Concert Hall.
A large crowd of protestors gathered to hurl insults and the occasional egg at those arriving at the venue. At one point a few of them broke through the barriers and rushed the hastily-closed doors to yell "Tory scum".
There was almost the air of a siege in the lobby of the building; everyone had to shout to be heard over the sound system booming out speeches and strains of the imperial march from Star Wars.
It should be stressed that this could just be an extremely vocal minority. Many of the people and banners in the crowd were distinctly familiar from other protests and indeed the same hustings event in 2019.
Senior SNP politicians including Ms Sturgeon have hit out at the "disgraceful" abuse meted out to journalists.
It is inescapable, however, that there is a tinge of anger to politics at the moment. There was a partisan atmosphere inside the hall at times too, with members booing some questions from the host, broadcaster Colin Mackay.
People are struggling amid rising prices and fuel bills, and that's only going to get worse as we move into winter.
Trust in politicians has plumbed new depths. Inflation and interest rates are on the up while wage disputes and industrial action are cropping up in almost every profession and trade.
Whoever wins this contest is going to find a huge stack of problems in the Downing Street in-tray.
And bringing the country together in such circumstances might be the biggest challenge of all.
5. A devolution row is building
As well as opposing a referendum and wanting to "stand up to the SNP", both candidates were also clear that they want to spread their policies UK-wide.
Both said they want to move on from the "devolve and forget" approach of previous administrations - which is to say, leaving devolved matters entirely to Holyrood.
They want the UK government to be far more visible and active north of the border, underlining to Scots that they have "two governments" working on their behalf.
This is not a new strategy. As chancellor, Mr Sunak sought to spend "levelling up" funds directly on local projects in Scotland.
It can be difficult to argue against extra money, particularly when local councils - including some run by the SNP - have applied for a share of it.
But Scottish ministers are obviously extremely wary about the idea of Holyrood being cut out of the loop, and this is a row which is only going to grow.
Mr Sunak wants to re-establish a "union unit" at the heart of Downing Street, with advisors focused on making sure every department - including ones which major on devolved matters - works right across the UK.
Ms Truss also talked about holding the Scottish government to account over its record on the NHS, education and transport.
All of this could put further into focus come October, when the Supreme Court is due to discuss indyref2 - a direct examination of the limits of devolved powers.