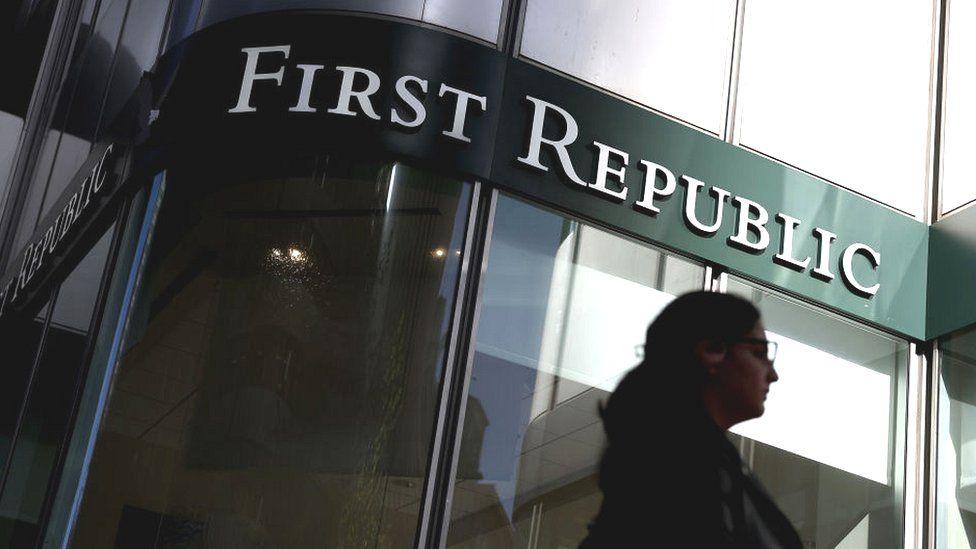 By Annabelle Liang
Business reporter
Wall Street giant JP Morgan Chase is cutting about 1,000 jobs at failed US lender First Republic Bank, after buying the firm this month.
The cuts amount to around 15% of First Republic's 7,000 workers, the BBC understands.
It comes after First Citizens, which bought the US operations of another troubled lender, announced job cuts.
Earlier this year, problems at US regional banks triggered fears about a more widespread crisis.
JP Morgan confirmed that it was cutting roles that were held by workers at the San Francisco-based bank but did not put a figure on the job losses.
The affected employees will receive pay and benefits for 60 days, along with a package which includes a lump sum payment and other benefits.
JP Morgan also said it was assisting them with finding new roles within or outside the company.
"Since our acquisition of First Republic on May 1, we've been transparent with their employees and kept our promise to update them on their employment status within 30 days," a JP Morgan spokesperson said in a statement.
"We recognise that they have been under stress and uncertainty since March and hope that today will bring clarity and closure," the spokesperson added.
First Republic, which was known for its big home loan business and stable of wealthy clients, was the 14th largest lender in the US at the end of last year. It was worth more than $20bn (£16.2bn) at the beginning of April.
However, it came under pressure after the collapse of several lenders in the US, including the technology-focused Silicon Valley Bank (SVB), sparked fears about the state of the banking system.
Later in April, First Republic said it had lost around $100bn in deposits as customers moved to withdraw their funds.
Earlier this month, JPMorgan said it would pay $10.6bn to take over First Republic in a deal brokered by regulators.
In the wider market, there were also concerns about the value of bonds held by banks as rising interest rates made those bonds less valuable.
The failure of First Republic is the second-largest in US history. Earlier this month, the bank's 84 offices in eight states reopened as branches of JP Morgan Chase Bank after regulators seized control and sold it to the Wall Street institution.
Meanwhile, SVB's US operations were taken over by First Citizens, as its business in the UK was bought by by London-headquartered banking giant HSBC.
First Citizens is also planning to cut around 500 roles held by former SVB workers, the BBC understands.
In an email seen by the BBC this week, First Citizens' chief executive Frank Holding highlighted the problems faced by SVB earlier this year and said the cuts will affect: "select SVB corporate functions and do not include any personnel in client-facing positions."