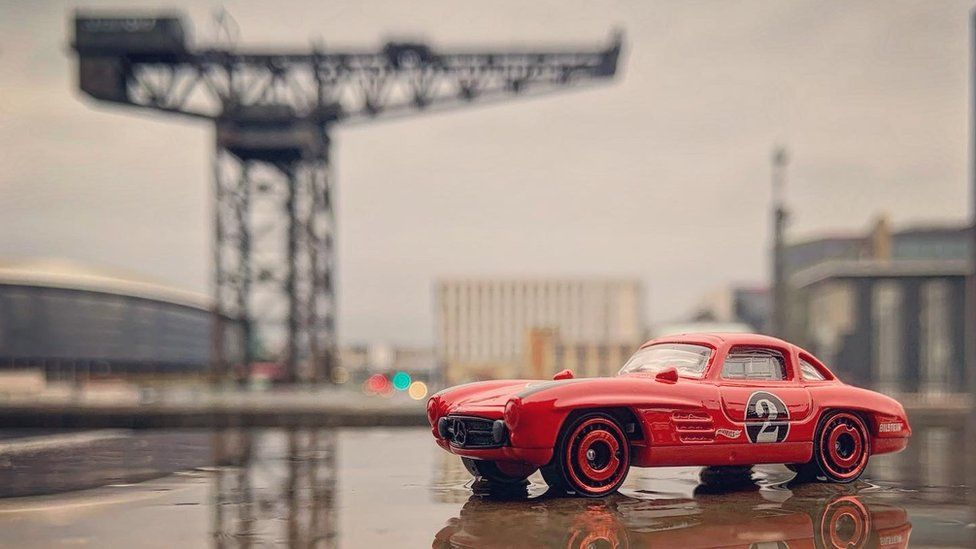 By Morven Mckinnon
BBC Scotland News
When Ross Burns first took a photo of one of his son's toy cars while on a daily walk he did not think it would turn into an obsession that has seen him complete 1,000 days of taking pictures in different locations.
It started as a lockdown project in 2020 but he caught the bug and it turned into a three-year project capturing images of his son's Hot Wheels miniature cars in locations from Edinburgh Castle to Buckingham Palace.
The 43-year-old, from Edinburgh, said he started taking out the toy cars when he went for walks with his six-year-old son Daniel.
He posted the pictures on his Instagram account and received an encouraging reaction. So he carried on.
When restrictions began to ease, he decided to take the cars all around the UK.
"It's also been a fun hobby for me and Daniel to do together," Ross says.
"He likes copying my photos and creating his own. Seeing him sprawled flat on a pavement to get the perfect angle is pretty funny."
Ross, the head of communications at Edinburgh Napier University, says that after a few weeks he set himself the challenge of doing it for a full year and then he would stop.
"But clearly I was hooked and another 635 days on, I'm still at it," he says.
"The great thing now is that the world has opened up a lot more so it's become a pictorial diary of my life."
The cars have been on a tour around the UK, in locations such as Glasgow, Newcastle, Aberdeenshire and London.
Ross says: "It's exciting when I go away for a couple of days and the first thing I pack are the Hot Wheels.
"London is amazing for locations although the one downside of it no longer being lockdown is places are far busier and getting shots without people in them is a challenge."
He has also appreciated the reaction from the wider community about his posts, saying he has received messages from the USA and Japan.
He is unsure how long he will continue to take the pictures.
"I said after a year of doing it that I would stop," he says.
"Now I've done 1,000 days straight and seen my pictures progress from very amateur efforts to something more pleasing. I've got a big decision to make."