By Chris Mason
Political editor in Liverpool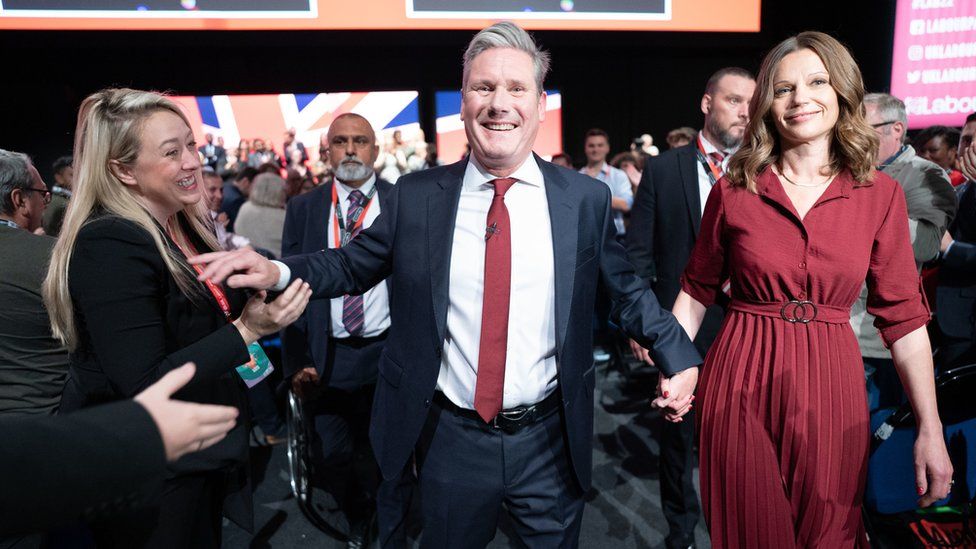 "Plenty will tell you it's a good idea to bury your differences. But in the Labour Party we like to bury our similarities!"
Labour's former leader Ed Miliband is in ebullient mood.
Now the shadow secretary of state for climate change and net zero, he knows what losing feels like and he's been around long enough to see his party do its fair share of internal bickering.
He, like others in Liverpool, are convinced something has now changed. And there is, undoubtedly, a buoyancy here.
A buoyancy borne of banishing the internal squabbles of the past; floating too on the self made troubles of the new prime minister.
People here have looked on open mouthed on what's happened in the last few days in the markets and are worried about the consequences.
But they are excited about the political chance they hope it might give them.
Sir Keir Starmer calculates Liz Truss has chosen to sail away from the seas upon which an election can be won; he wants to be seen to be tacking straight towards them.
"This stuff with that budget the other day means we can say the Tories are the bogeymen. They're doing just what we always accuse them of, helping the rich!" said one shadow cabinet minister.
Sir Keir's speech was not just a transparent repudiation of the era of Jeremy Corbyn - a man, remember, he served alongside and who he campaigned to make prime minister - it was also a naked embrace of the instincts, even the language of Tony Blair.
But even his biggest supporters acknowledge privately he doesn't have what they saw a generation ago as Sir Tony's ease on the stage or capacity to personify an era.
"He's not got that zeitgeisty thing that Tony had," one senior figure loyal to Sir Keir admits to me.
One phrase used by some in Keir Starmer's circle is "hero voters" - a reference to people who have previously abandoned Labour but are now willing to return.
Those tasked with trying to talk to them and persuade them tell me the party still has a way to go to introduce Sir Keir and what he stands for to them. They'll hope this speech goes some way to do that.
But one said it may not properly happen until a general election campaign, when the coverage of party leaders steps up and voters are paying more attention. Some in the party fear by then it could be too late.
Oh, and incidentally, some senior figures hate the phrase "hero voters", thinking it is a patronising phrase that belongs in a nerdy Westminster presentation, if that, and certainly not for use more widely.
Not least because it suggests long time, loyal Labour voters are somehow less than heroic.
There was a conscious attempt by Labour to ensure the leader's speech was not the rhetorical equivalent of "comfort eating" as it was put to me: in other words, talking about stuff that is comfortable ground for Labour activists, such as the NHS.
The focus instead was on the economy. I'm told there wasn't a big re-write in the light of events of the last few days.
And it is true to say that since at least the spring Sir Keir and his team have been talking about how they saw sluggish economic growth as being at the root of plenty of the UK's problems.
And remember, for so long the economy has been perceived by many as an Achilles heel for Labour.
But there is no doubt their desire to embrace it has been emboldened by the reaction to the government's budget the other day.
When, in government, there is nervousness about talking about what is going on, and there is nervousness about not talking about what is going on, it tells you one thing: they are not in control of events.
It tells you the government has been a reluctant passenger on this big dipper of market volatility that it strapped itself and the rest of us into.
Tory MPs worry that this could be the moment that mugs them of their reputation. And Labour hopes to pocket and run off with the consequences of that.
But a couple of final thoughts worth bearing in mind.
If I switch from the maritime metaphors from above to a mountainous one now, Labour's challenge ahead is Himalayan in height. And it took them a while even to get to sea level.
The result at the last general election was their worst in nearly a century; the worst since 1935.
And the last time Labour won a general election, 17 years ago, they won 41 seats in Scotland. At the last election, they won... one.
And the Scottish National Party's near monopoly of Scotland's Westminster seats shows little sign of immediate significant retreat.
Reaching that snowy summit for Labour is still some way off.
And one more thing: even if they were to manage it, and Sir Keir Starmer became prime minister, it wouldn't be the calm, economic serenity of 1997 when Tony Blair arrived in power. It'd be far, far more choppy.
Reaching 10 Downing Street will be difficult. Governing in the mid 2020s could prove even harder.
Around the BBC